World-Class Health Care in Metro Little Rock
Wil Chandler
Central Arkansas boasts nationally recognized doctors and health care facilities, with several large providers and the state's teaching and research institute located in Little Rock. If you're considering retiring or relocating to the metro, rest assured that your long-term health will be in good hands.
Map of Major Hosptials in Metro Little Rock
LITTLE ROCK
Arkansas Heart Hospital
Baptist Health—West Little Rock
CHI St. Vincent—Midtown
University of Arkansas for Medical Sciences (UAMS)
Central Arkansas Veterans Healthcare System
Arkansas Children's Hospital
NORTH LITTLE ROCK
Baptist Health–North Little Rock
SHERWOOD
CHI St. Vincent—Sherwood
BENTON
Saline Memorial Hospital
CONWAY
Conway Regional Health System
Baptist Health—Conway
---
Nationally Acclaimed Hospitals
Arkansas Children's Hospital
1 Children's Way, Little Rock
Arkansas Children's Hospital is the sixth largest children's hospital in the country. It's nationally ranked in four children's specialties, including pediatric neurology and pediatric cardiology. It is recognized internationally for its pediatric heart center and heart transplantation program. It is one of only two "Level 1" trauma centers in the state and houses Arkansas' only burn unit.
Arkansas Heart Hospital
1701 S. Shackleford Road, Little Rock
The Arkansas Heart Hospital recently ranked No. 1 among U.S. hospitals that offer aortic valve replacement without open-heart surgery. It's a nationally recognized and award-winning for its dedication to the treatment of cardiovascular disease. It's also a cardiac training center for the American Heart Association.
CHI St. Vincent Health System
2 St. Vincent Circle, Little Rock
Nationally ranked among the top 5% of medical systems for overall orthopedic services, joint replacement and spine surgery, St. Vincent recently underwent a $40 million renovation. U.S. News & World Report ranked CHI St. Vincent the best hospital in the state in 2014 and several of the hospital's clinical specialties have been ranked as "high-performing" by the publication.
University of Arkansas for Medical Sciences (UAMS)
4301 W. Markham St., Little Rock
In 2020, UAMS was once again named the best hospital in the state by U.S. News & World Report, and its ear, nose and throat (ENT) department was ranked among the top 50 nationwide. UAMS draws patients from more than 50 foreign countries and all over the U.S. The hospital treats more multiple myeloma cancer patients than any facility in the world. UAMS' Institute on Aging is recognized as one of the top 10 geriatrics programs in the nation. It is a "Level 1" trauma center and the only academic medical center in Arkansas.
---
BECOME AN ARKANSAS ORGAN DONOR
Caring for your health is more affordable in Metro Little Rock!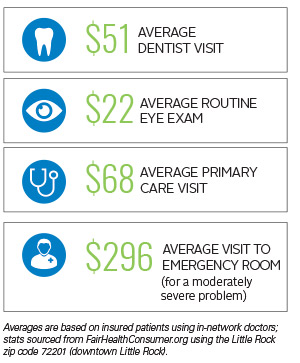 The Arkansas Regional Organ Recovery Agency (ARORA) is an organ procurement organization and also maintains the Arkansas Donor Registry.

ARORA was established in 1987 to recover organs and tissues for life-saving and life-enhancing transplants. The organization's mission also includes providing accurate information about the donation process and to encourage Arkansans to register to become organ, tissue and eye donors.
Learn more at ARORA.org.
Permalink