Welcome to Metro Little Rock: North Little Rock
Located just across the Arkansas River, North Little Rock has a lot in common with the capital city. Both have major health care facilities, restaurants and retailers. But it's North Little Rock's historic downtown, known as Argenta, that's distinguished itself as the region's epicenter for entertainment.
The vibrant, walkable community of Argenta has recently emerged as a creative sphere. Residents enjoy shops, workplaces, schools, grocery stores and a farmers market all within walking distance of their homes. Great art galleries, locally-owned restaurants and bars are also plentiful, with the 370,000-square-foot Verizon Arena, which frequently hosts star-studded acts—like Bruno Mars, Taylor Swift, Cher—just up the road and minor league baseball's Arkansas Travelers at nearby Dickey-Stephens Park. The park boasts striking skyline and river views from the stands, and unique family nights offer great fun for young children.
The NLR/Argenta area features everything from Park Hill's Craftsman-style bungalows and Lakewood's sprawling mid-century homes to the eco-friendly condos and townhomes of The Enclave and City Grove. Can't get enough of the water? The new Rockwater Marina offers stunning views of downtown Little Rock from its docks.
Educational opportunities are continually growing. The North Little Rock School District recently reconstructed and renovated several of its schools, including a major overhaul of its flagship campus, North Little Rock High.
Tyson Foods, the Arkansas-based poultry giant, has operations here, as does L'Oréal USA and Audio International. Employers appreciate the city's easy access to shipping routes: Interstates 30 and 40 intersect here.
McCain Boulevard, a main thoroughfare in North Little Rock, is the city's largest shopping hub. National retailers like Lowe's, Best Buy and Target settled here alongside the newly renovated McCain Mall (home to the usual suspects). And from Argenta to the northern edge of the city, locals have plenty of good eats. Restaurant Capeo, Mug's Café, Creegan's Irish Pub, Riverfront Steakhouse, Arkansas Ale House, Cock of the Walk, David's Burgers—the list goes on and on.
PARK IT HERE
North Little Rock is home to Burns Park, which, at 1,700 acres, is one of the country's largest city parks. Park visitors have access to a 36-hole golf course, indoor and outdoor tennis courts, camping and more.
Staff Recommendations: A Hip Crowd
"I think my favorite thing about Argenta is how young it is. Not the area itself, but the people in it. You're close to downtown, close to the Verizon Arena and to the River Trail. It's a very hip neighborhood, with new restaurants and shops cropping up. Plus, it's pretty nice to have three breweries within walking distance." –Lydia McAllister, Writer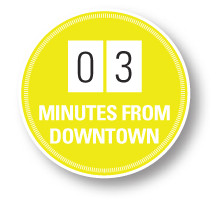 Permalink