Welcome to Metro Little Rock: West Little Rock
Generally, anything lying west of Interstate 430 is considered West Little Rock, which makes this section of town an expansive one. Cantrell Road and Chenal Parkway are the major veins that carry you into West Little Rock's spacious neighborhoods, thriving retail centers and outlying areas full of recreational opportunities.
The area is known for its gated neighborhoods and million-dollar homes, but there are other housing options as well. Apartments, condos and even country estates with horse stables are found in the area. Notable developments include: Brodie Creek, which boasts charming homes reminiscent of Seaside in Florida; Woodlands Edge, which offers ample green space and eco-friendly houses; the Ranch, known for its access to the Little Maumelle River and scenic views; and Pleasant Valley, which is a little older than its west Little Rock counterparts, but is known for houses with character and wide, tree-lined streets (not to mention proximity to the private Pleasant Valley Country Club).
You'll notice a stretch or road near the I-430/I-630 (Big Rock) interchange called Financial Centre Parkway. Several brokers and dealers have offices nearby, and all over West Little Rock, the financial industry has a big presence.
West Little Rock has a lot of perks. Most big box retailers like Old Navy, Barnes & Noble, PetSmart and The Home Depot settled here. Meanwhile, Shackleford Crossing hosts a lineup of stores like JCPenny and Babies 'R' Us, and Pleasant Ridge Town Center, while anchored by Belk, is known for its all-star cast of local boutiques.
This part of town is also close to nature – hiking Pinnacle Mountain or sailing on Lake Maumelle is just minutes away. Hit up Two Rivers Park for fishing, sunset watching from the bridge or a good run on paved paths.
NATURE'S FINEST
Covering more than 1,000 acres of riverside land, Two Rivers Park has whatever outdoors experience you're looking for. With trails for walking, running, biking and horseback riding, as well as picnic tables and benches featuring stellar views, the park is never vacant.
RE-SALE SOCIAL
Moving here with things you no longer want or need? A local Facebook group, Little Rock, AR Online Yard Sale, is a powerful tool to connect you with locals. You'll have to get a current member to invite you, then you get approved, but you'll be buying or selling in no time.
Staff Recommendations: A Way of Life
"West Little Rock life is my favorite because there are constantly new restaurants and stores opening. I feel like I can't keep up with trying all the new places, especially when I'm so faithful to great eats like Big Orange and Taziki's. It's a fun and exciting atmosphere in the area, with tons of young adults to meet and connect with." –Devan Malone, Marketing & Research Manager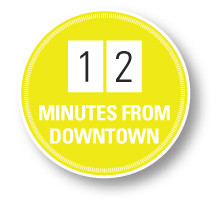 Permalink