Welcome to Metro Little Rock: Midtown
Think of Midtown as Little Rock's sprawling center of activity, the hub of retailers and large employers. You're never much more than 10-15 minutes away from any part of town with Cantrell Road and Interstate 630 passing through Midtown, linking Downtown and West Little Rock.
Residential areas surround Midtown's business centers with neighborhoods full of ranch-style and modern homes with big yards. Established in the 1950s, these areas are lush with landscaping and tree canopies and kids running around in front laws. The neighborhood is nestled between The Heights and West Little Rock, and blends somewhat with Cammack Village. Two popular neighborhoods within Midtown, Kingwood and Leawood offer great homes at a lower price per square foot than nearby Heights homes, but remain in close proximity to the best Heights has to offer.
With the University of Arkansas at Little Rock, the University of Arkansas for Medical Sciences and CHI St. Vincent Hospital in the neighborhood, job opportunities for a wide range of professionals in industries including medicine, law and communications. However, many job opportunities in the area are still related to the retail lifeline.
Shopping centers here draw patrons from all over the city. With the three-level Park Plaza Mall, an outdoor shopping center Midtowne Little Rock and Park Avenue, a mixed-used development anchored by Target and LA Fitness, all at different corners of the same intersection, it's a triple threat for the neighborhood. These centers lure in residents from across Little Rock to shop national chains like Dillard's, Banana Republic, Coach, Pottery Barn, Williams-Sonoma, The Container Store, Ulta, Brighton and more.
Other Midtown staples include the beloved Little Rock Zoo, the public War Memorial Golf Course and War Memorial Stadium, which is best known as the part-time home field for the University of Arkansas Razorbacks football team. Be warned: Midtown all but shuts down on game days, but we're not complaining.
HIDDEN GEM
If you're a runner or walker who's not used to hills, which are prolific in Midtown, head to the outdoor track at Scott Field at Forest Heights Middle School on Evergreen Drive. It's great for both recreational and serious athletes and is open to the public after school and on weekends.
Staff Recommendations: Battle of the Burgers
When it comes to hamburgers, Meto Little Rock is divided. Many places are bragged on as "best." Local chain David's Burgers, with a location inside Midtown's Park Plaza Mall, is among the most popular.
What does our staff say? It's a tie. Big Orange (Midtown and Chenal Valley locations) and Arkansas Burger Company, a Midtown mainstay, are our favorite places to find mouthwatering burgers.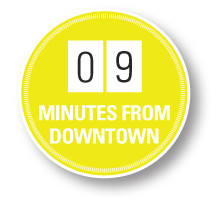 Permalink