Welcome to Metro Little Rock: Downtown
Over the past decade, Downtown Little Rock has seen a dramatic transformation, and
more is still to come
. Renovations and revitalization projects up and down Main Street and President Clinton Avenue alone upped the ante and residents, as well as tourists, can't get enough of the new vibe and amenities like an almost-complete Robinson Theater rennovation and the fledgling restaurants popping up along Main Street in downtown's new Creative Corridor.
Some metro residents skip the commute and opt for downtown living in high-rise, river-view condos, like those of the River Market and 300 Third towers.. Others choose the historic Quapaw Quarter, and others still settle in hip SoMa (South Main). These neighborhoods boast eco-friendly dwellings, grand Southern mansions and refurbished eye-catchers– not to mention locally minded restaurants like South on Main and The Root Café.
Downtown dwellers and those who work in the heart of the capital city Monday through Friday (more than 42,000 people to be exact) enjoy walkability to popular establishments like Capital Bar & Grill, Flying Fish, Samantha's Tap Room, Boulevard Bread, Gus' Fried Chicken, Cache, Gusano's, At the Corner and many more.
Of course there are many other restaurants, many of which reside in Downtown's River Market, a vibrant gathering place in the city. Farmers markets, bars, arts and concert venues, shops, the main library and incredible riverside parks make for an all-inclusive experience Downtown.
The William J. Clinton Presidential Center is a huge lure, enticing tourists and residents alike to explore its temporary exhibits and explore the history of the nation's 42nd president.
Also Downtown are some regional power players and nationally known companies—Stephens Inc., the largest investment bank off Wall Street, Heifer International, a nonprofit that works to fight hunger and poverty worldwide, Acxiom and Arkansas Children's Hospital. And the state's government operates out of the capitol and surrounding buildings.
You can count on diversity Downtown. One weekend might be relatively subdued compared to a weekday, while the next there might be tens of thousands of people in the streets for a marathon or Riverfest, an annual music festival featuring major artists from the likes of Carrie Underwood to Ludacris to ZZ Top.



GOOD TO KNOW
• More than 42,000 people work in downtown Little Rock.

• Forty-plus food trucks gather for the popular Main Street Food Truck Festival held annually in September.

• While Little Rock offers many excellent options for education, downtown provides two unique experiences: eStem Public Charter Schools and the brand new Urban Garden Montessori.
Staff Recommendations: Best Workday Lunch Spots
Power lunch? Important meeting? Pickup order? We've got you covered. Downtown is where we work, so we're here a lot. These are our favorite lunch spots:
• At the Corner
• Capital Bar & Grill
• Copper Grill
• Threefold Noodles & Dumplings
• Dizzy's — "They have the best cheese dip. Pair it with the San Miguel Wrap; it's my kind of fiesta!" -Annette Terrell, Advertising Coordinator
• Flying Fish
• Hanaroo Sushi Bar
• Samantha's Taproom and Wood Grill
• Dugan's Pub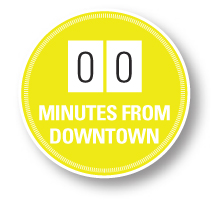 Permalink