Welcome to Metro Little Rock: Hillcrest
Hipper and more laid-back than its cousin to the north, Hillcrest is always having people over. Full of beautiful turn-of-the-century homes and cottages, home prices are lower here than in The Heights, with more rental options, too. Charming Craftsman bungalows, American Foursquare houses and two-story Tudor-style homes sit cozily along oak-lined streets.
In the mornings and evenings, residents (a lot of young professionals and active and artistic types) emerge to walk pets alongside wrought iron fences and overflowing azaleas. All day long, the historic district's diverse shops and restaurants bustle with customers. Places like Café Bossa Nova, Mylo Coffee Co., Kemuri and The Pantry Crest beckon all of Metro Little Rock for delicious and diverse fare. And at night, voices carry across the neighborhood from the patios of favored gathering spots like Ciao Baci, U.S. Pizza and more.


Like The Heights, most of Hillcrest's businesses are located along the main thoroughfare of Kavanaugh Boulevard, and patrons tend to be middle to upper class. If you're looking to open a business catering to that demographic, Hillcrest is the place to be. The area is also a short distance away from both downtown and Midtown, providing a quick commute.
Like the rest of the neighborhood, the social scene is casual and undemanding. On the first Thursday of every month, the local merchants host "Shop 'N' Sip" where businesses stay open late and invite customers to enjoy a glass of wine while they shop.


Remembering its roots as a long-undeveloped stretch of woods, nature's influences are as a part of this neighborhood as a Damgoode Pies' pizza. Families and fitness seekers explore the beautiful Allsopp Park, which boasts tennis courts, playground and biking and hiking trails.
From hip food trucks and recent college grads to fancy spas/salons and old money, eclectic Hillcrest is one of a kind.
Stay in the know about all things Hillcrest and beyond by liking the Forbidden Hillcrest Facebook page. Word-of-mouth popularized this page, which acts as a neighborhood watch for the area. More than 63,000 people follow for up-to-the-minute news and info on crime, community events, charitable opportunities and random oddities. Also visit HillcrestResidents.org.
Staff Recommendations: A Little Bit of Everything
Hillcrest is as diverse as are our team's favorites things about this neighborhood.
Knoop Park: Skyline views of downtown
The Pantry Crest: Order the bacon-wrapped dates and the lasagna
Hillcrest Animal Hospital: Caring staff and easy-to-get-appointments
Allsopp Park: Beautiful walking rails and park amenities
U.S. Pizza: Get a spot on the pet-friendly patio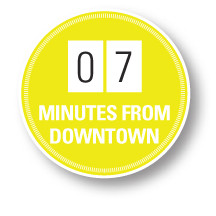 Permalink