Welcome to Metro Little Rock: Conway
Home to the University of Central Arkansas, Hendrix College and Central Baptist College, it's no wonder Conway—with around 60,000 residents—has been dubbed the "City of Colleges." Nearly 75 percent of residents are under the age of 45, adding to the city's unique and vibrant experience.
But more than schools, Conway is also a city of scenic lakes and parks, cultural prolificacy and a thriving business environment with a growing technology sector. It's the perfect bait for getting local college graduates to stick around, and who could blame them? In fact, 40 percent of Conway's adults have a post-secondary degree, giving Conway an uncommon advantage in economic development.
The town's downtown area was recently revitalized when the community invested $80 million to turn it into a gathering place for living, working, playing, shopping and dining. The locals love Mike's Place and Stoby's, and new eateries-with-a-mission Pitza42 and Tacos 4 Life Grill, where for every meal purchased, a meal is donated to a hungry child.
The city has also made extraordinary leaps in sustainability, making Conway one of the state's greenest communities. A revolutionary automated recycler, a reuse center, a modern sanitary landfill and a Styrofoam recycler are used by most of the county.
Conway residents also enjoy median home prices well below the national average. It isn't unusual to find a starter home below $100,000. In the historic district, home styles include Queen Anne, Spanish Eclectic and Dutch Colonial. If you're looking for luxury, try Centennial Valley or Paddington Estates.
The town is dripping with jobs in higher education, as well as the Conway Regional Medical Center and the Conway Human Development Center, which employ more than 1,200 people each. New to the corporate landscape in Conway is HP, which employs a large customer service and technical support staff. Little Rock-based Acxiom Corp., a software company specializing in database marketing, also has a large presence here.
Parks are next on Conway's big target list with plans to invest more than $40 million in the area over the next 20 years. Not that the city is hurting in the recreation department, Conway already has 17 parks with picnic and camping areas, playgrounds, tennis and basketball courts, hiking and biking trails, and areas to swim and fish.
Golfers flock to Conway when the weather is right – and it usually is – as Conway has several beautiful courses to choose from, including Conway Country Club, Nutters Chapel Golf & Country Club, Centennial Valley Golf & Country Club and The Links at Cadron Valley Golf & Country Club. There's also the Arkansas Golf Center, a club fitting center and lessons facility, where practice makes perfect.
Conway lavishes its residents with cultural delights year-round. Art galleries you want to get lost in and renowned performances by the national acts and personalities who come through UCA's Reynolds Performance Hall — Conway native Kris Allen, Danny Glover, Nicholas Sparks, Erin Brockovich, Tim Gunn, Spike Lee, Broadway's "STOMP!" and "Shrek: The Musical" to name a few — draw all of Metro Little Rock to Conway for great entertainment.
But possibly the most exciting Conway experience is the annual Toad Suck Daze. Don't worry, no one's actually sucking on toads. The three-day festival draws more than 160,000 people to downtown in May with outrageous food, rides, a 5K, and concerts including 2014's headliner, MC Hammer (yes, really).
MAKING HEADLINES
• Bloomberg Businessweek recently ranked Conway among the "40 Strongest U.S. Metro Economies," and CBS MoneyWatch and Kiplinger recently included Conway among those on their lists of the "10 Cheapest Places to Live."
• Can't wait until the next World Cup? Conway's Centennial Soccer Park includes 10 full-sized fields. Look out, FIFA.
• CNN Money recently ranked Conway 16th in the U.S. for growing cities with affordable home prices.
• Retail therapy is a real thing, and no one knows better than Downtown Conway. With a 600,000-square-foot outdoor mall that boasts national retailers, specialized boutiques and seasonal shopping events, downtown is like a spoonful of sugar.
• The University of Central Arkansas in Conway ranks 26th in the category of "Top Public Schools" among regional universities in the South according to U.S. News & World Report.
Staff Recommendations: Where We Eat
Tacos: Tacos 4 Life Grill
Coffee: Blue Sail Coffee
Sweets: PattiCakes
Cheese dip: Stoby's
Barbecue: Whole Hog Cafe
Mediterranean: Taziki's
Burgers: David's Burgers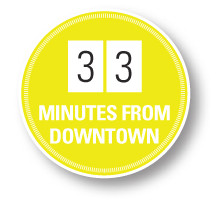 Permalink