Welcome to Metro Little Rock: Chenal Valley
Located within what's considered west Little Rock, but with an essence all its own, Chenal Valley begs to be singled out. Its many preeminent qualities lure longtime Little Rock residents and newcomers alike to reside within its 4,800 scenic acres, on which 34 separate neighborhoods have been established. A lot of the acreage has been set aside to create green space, making its current and planned neighborhoods even more desirable.
Houses range from $200,000 to $2 million, and stunning lots are available for those wanting to customize their dream residence. The community is considered one of the safest and most family-friendly in Little Rock, and that's not just because many of the neighborhoods are gated (a nice perk).


Several of the neighborhoods, including a luxury condo development, sit along Chenal Country Club's two championship golf courses. And the entire area is nestled along verdant west Chenal Parkway within rolling hills and towering trees. Residents enjoy serenity and privacy here, but are mere minutes from every urban comfort they need.
The Promenade at Chenal, for instance, is a one-stop shop for retail therapy, dining and entertainment. The open-air center is home to a variety of merchants including Apple, J. Crew, Lululemon, Anthropologie and Nike. Restaurants include Local Lime (a gourmet taco hot spot), YaYa's Euro Bistro, Del Frisco's Grille and Café Brunelle, a favorite for coffee and sweet treats. It's also home to the only IMAX theater in town at the Chenal 9 movie theater.
Beyond The Promenade, there's the exceptional Arthur's Prime Steakhouse, located at The Village at Rahling Road, a bustling Kroger Marketplace, Mellow Mushroom and Chuy's, a popular Mexican food chain.
On the weekends, people enjoy Wildwood Park for the Arts, which offers scenic beauty and world-class music, festivals and events. Chenal's other parks and pools are a big hit with families too, and Pinnacle Mountain State Park beckons the entire metro to climb to its peak for an incredible view.
Just further proof that it's the full package, this area houses Chenal Valley Montessori and primary school Chenal Elementary, which recently opened its doors. Both establishments focus on curriculum that encourages student development and expression. Chenal Elementary, in particular, focuses on the environment and the arts, and was strategically built adjacent to Wildwood Park for the Arts.
Staff Recommendations: Big City Vibes
"Moving from a big city to Little Rock, I took comfort in the amenities of Chenal Valley—initially for the familiar chain restaurants and stores but later for the beauty and serenity of the area. Some locals call the area 'Oklahoma' because of its distance from downtown, but that's ridiculous. It's a short 15 minute drive to my favorite restaurant, YaYa's Euro Bistro, and for shopping at stores I love like LuLuLemon, Apple and Anthropologie." -Lindsay Irvin, Editor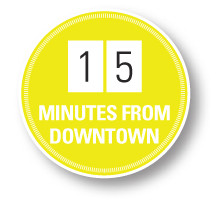 Permalink