Welcome to Metro Little Rock: The Heights
Home to many of central Arkansas' elite, The Heights could be a city in itself. It's one of the most sought-after neighborhoods in Little Rock due to its character-rich homes and centrally located perch atop Cantrell Road. This demand keeps home values sky-high.
The Heights' quiet streets are lined with cottages and bungalows, wooded and manicured lawns, and plenty of friendly neighbors. Generally, the homes here are larger and more expensive than in nearby Hillcrest, and prices range from $300,000 to $2 million. Edgehill Road, a coveted street address known for old money and large, lavish homes, offers incredible views of the city, the Arkansas River and the North Little Rock bluffs from its perch in The Heights. Nestled up against some of the neighborhood's largest homes is the exclusive and historic Country Club of Little Rock, which just happens to be one of the oldest country clubs west of the Mississippi River. Opened in 1902, the gorgeous hilltop golf course provides stunning views of downtown. Members enjoy fine dining, tennis facilities, a fitness center and a resort-style pool.
The Heights residents confess they rarely need to leave the neighborhood — boutiques, banks, restaurants and grocery stores are all within walking distance. The mom-and-pop shops and eateries supply residents with everything from high fashion, luxury jewels and supplies to gifts, outdoor gear, books and toys. Residents have access to great shopping all along Kavanaugh Boulevard. Handmade in The Heights, a relatively new festival, is a celebration of all things local and handmade.
Dinner is just a few blocks away with one of the city's top sushi places, Sushi Café, located right in the heart of The Heights. Other neighborhood favorites include U.S. Pizza, Heights Taco & Tamale Co., Cheers in The Heights, Café Prego and ZaZa Fine Salad & Wood Oven Pizza.
On the third Thursday of every month, don't miss Happy Hour in The Heights, when retailers and restaurants host tons of specials and trolleys shuttle shoppers around.
A Bit of History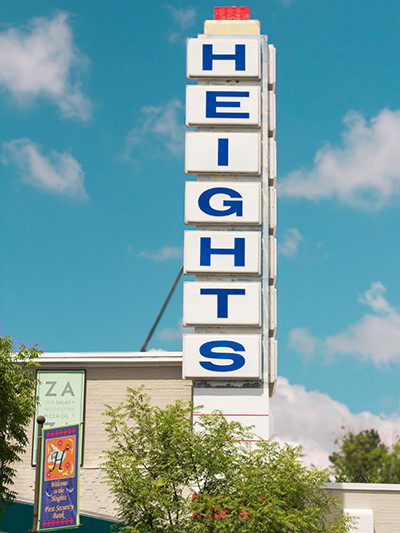 A landmark along The Heights' main drag of Kavanaugh Boulevard is The Heights Theatre building and sign.
The theater, which debuted on May 1, 1946 with the Gene Tierney-film "Leave Her to Heaven," is now a fine women's apparel boutique and the focal point of a popular block of The Heights businesses.
Cammack Village
Called the "city within a city," Cammack Village is a sought-after neighborhood pursued by young families and singles alike. Nestled up next to The Heights, Cammack has its own city government, police force and fire department, although it still relies on Little Rock for water, power and waste collection.
The neighborhood boasts wide streets lined with mature trees and charming bungalows — mostly small starter homes in the Craftsman style. Roughly 1,000 people live in Cammack Village.
Advice from the locals: Do not speed in Cammack Village; the 25 mph limit is strictly enforced. Tickets have been given to drivers going just 1 mph over. Consider yourself warned.
---
Permalink