Welcome to Metro Little Rock: Jacksonville
Home to the only C-130 training base for the U.S. Department of Defense, Jacksonville is an important part of the nation's military force, but the city of about 29,000 possesses a family-friendly atmosphere that attracts people from everywhere.
Just 10 minutes from Little Rock city limits, Jacksonville offers affordable housing and a community environment. Contemporary dwellings on the west side compliment more distinguished areas like Stonewall and Foxwood.
The 6,128-acre air base is home to more than 14,000 active duty military personnel and civilian employees. The health care, education and manufacturing industries are three more of the city's largest employers.
Jacksonville boasts two community pools and 11 parks. A variety of athletic and aerobic classes entice athletes to the city's 56,000-SF community center, whose crown jewel is an aquatics area featuring a heated six-lane pool.
Dupree Park is home to softball, baseball and soccer fields and also offers an 18-hole Frisbee-golf course, an enclosed off-leash dog park and a 10-acre lake with a fishing pier. Splash Zone is the city's premier water park attraction. Open Memorial Day to Labor Day, it features a plunge pool with two water slides, a water tunnel, an umbrella-shaped Rain Drop and Dew Drop water showers.
Popular events such as the Little Rock Air Force Base's biennial air show and the annual FestiVille family event draws the whole metro area to Jacksonville for a good time.
Staff Recommendations: Where We Eat
Smokin' Buns BBQ and Catfish: Bonnie Jacoby, a Cabot resident and Arkansas Business VP of Business Sales & Training, makes the quick trip into Jacksonville to savor a pulled pork sandwich with onion rings.
Thai Taste: Art Director and North Little Rock resident Erin Lang stops by this delicious diner whenever she's in Jacksonville. Skip the buffet though, and order the basil chicken (or anything else) from the menu.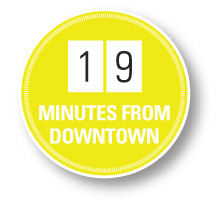 Permalink