Welcome to Metro Little Rock: Maumelle
This young, planned community located just a few miles northwest of Little Rock holds the distinction of being the fastest-growing community in Pulaski County. It may not have the extensive history of other metro communities, but it does possess the charm, beauty and convenience that make it an exceptional place to call home.
A community with two lakes, two golf courses, new subdivisions and even homes with breathtaking views of the Arkansas River and nearby Pinnacle Mountain, its no wonder Maumelle is a sought-after suburb for many in Metro Little Rock.
One of the newer developments and golf courses, Country Club of Arkansas, boasts lovely garden homes for empty nesters and elegant, spacious homes for growing families.
Education is also a draw – the city is home to the state-of-the-art Maumelle High School, which opened its doors in 2011, making it the newest primary public high school in Pulaski County.
Residents enjoy Maumelle's natural setting through the city's approximately 30 miles of walking and biking trails, as well as a number of sports parks that offer opportunities for picnics, playing with the family and good old vitamin D. Some of the trails trace the perimeter of Lake Willastein and Lake Valencia, both popular fishing spots, stocked by the Arkansas Game & Fish Commission. And the hub of Maumelle recreation is the Jess Odom Community Center and its Dowell Naylor Aquatic Center.
As for work, national retail giant Dillard's recently consolidated all of their online distribution to a facility in Maumelle, creating hundreds of new jobs. Meanwhile, big names like Kimberly Clark, Ace Hardware, Cintas and Molex also employ thousands of metro locals.
NEW HIGH SCHOOL
The new Maumelle High School is so fabulous that Little Rock's historic Robinson Center Music Hall, which closed in 2014 for major renovations, held its 2015-16 performances there. And the Robinson Center wasn't the only arts venue who moved. The Arkansas Symphony Orchestra and Ballet Arkansas will use the high school's 1,250-seat facility—now being dubbed the Maumelle Performing Arts Center—while they await their new digs in downtown Little Rock's Creative Corridor.
Staff Recommendations: Active Lifestyle
"Maumelle has miles of trails to walk and jog. Our dogs love the trails through the woods."
-Kim Clark, Accounting Supervisor
Lake Willastein Park is the city's most beloved park. With multiple walking trails, cycling paths, fishing docks, beautiful scenery and wooden bridges, playgrounds, barbecue pits and picnic spots, it is no wonder why residents love to play and relax here.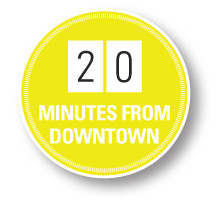 Permalink