Welcome to Metro Little Rock: Riverdale
Hugging the banks of the Arkansas River, Riverdale attracts natives and tourists alike with the prospect of outdoor adventure. A day here might give you a round of golf, a bike ride down the Arkansas River Trail or a stroll over the Big Dam Bridge (yes, that's really its name), the country's longest pedestrian bridge, built for that purpose.
The popular trail is never shy of people, pets, strollers and bikes. Its 24 miles include killer views and a river breeze to keep you going in the summertime. The trail winds past Rebsamen Golf Course, Little Rock's largest public golf course, as well as Murray Park, complete with soccer fields, archery targets, sand volleyball courts, a boat dock, dog park and pavilions.
Riverdale residents are entirely spoiled when it comes to great dining. Here, you can lose yourself in heavenly pork at the Memphis-in-May World Barbecue Champs, Whole Hog Café. Sister restaurants Loca Luna and Red Door feature eclectic menus for any taste, or head over to Cajun's Wharf restaurant, bar and live music venue. Do yourself a favor and have a Play-De-Do (Cajun's signature drink). The Fold draws people from across the metro for a taste of its tacos, while The Town Pump, a hidden gem of a dive bar, is an experience not to miss.
Luxury apartments, townhouses, condos and single-family homes of all price ranges give residents plenty to choose from – many with incredible views of the Arkansas River. Want to drive your boat right to your doorstep? You can do that in Canal Pointe.
The thing about Riverdale is that it feels like an escape from the city even though it's just minutes from Downtown. You can easily get to the heart of Little Rock in no time, but with all the shopping, recreation and fabulous eats, you don't necessarily have to go anywhere.
And while the neighborhood is known more for being the city's design district, you'll still find big businesses here. In fact, you'll find Verizon's regional headquarters in Riverdale, as well as the world headquarters for both Dillard's and ATA International (under construction).
Staff Recommendations: Food, Therefore Fitness
In Riverdale, we're either pigging out at some of the city's best restaurants or working it off on a nearby trail.
WHERE WE EAT: "Best seafood," "best chef," "best fine dining"—these are all honors earned by Brave New Restaurant in Riverdale. At this local favorite, which sources Arkansas ingredients, patrons favor a table along the window or on the terrace overlooking the river and the famous crème brûlée.
Two on our team say Buffalo Grill is home to the best burger in town.
WHERE WE WORKOUT: It was unanimous. We favor workouts on the Arkansas River Trail and Big Dam Bridge, about which ad coordinator Annette Terrell says, "It has beautiful views and I can bike to it from my house!"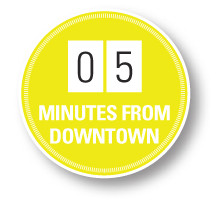 Permalink