Pet Resources: Homeward Bound in The Metro
When St. Louis-native Dr. Alex Heese was matched for a three-year family medicine residency at Baptist Health North Little Rock's new program, he and his girlfriend, wedding photographer Stephanie Nachtrab, didn't know what to expect. But the two, their 4-year-old golden retriever Finn and his puppy brother Nigel were excited to embark on a new adventure in their new hometown of North Little Rock.
We caught up with Stephanie and found out what she and Alex love about their new home and did a bit of metro exploring through the eyes of the adorable doggy duo.
5 Questions
Where have you lived?
"I was born in Toledo, Ohio, then moved to St. Louis, Missouri, then to St. Joseph, Missouri, then Maryville, Missouri for college, then Kirksville, Missouri for my master's, then back to Kansas City to enjoy being a wedding photographer. Now [I live in] North Little Rock while my boyfriend goes through residency."
"Ooooooh, probably @ThisWildIdea. I really love Maddie and the way Theron takes photos of her and their life together. I always wanted to have a friendship like that."
What have been some of your favorite things about central Arkansas?
"We love Burns Park, Allsopp Park, Petit Jean Mountain, Pinnacle Mountain and Woolly Hollow. Gah, also Lake Catherine and anything in Hot Springs or the Ozark National Forest. I didn't know this state was so beautiful, and honestly, I could see us staying in Arkansas long-term after this."
What was Little Rock like compared to what you'd heard about it before moving?
"Moving here I wasn't that excited, especially moving from Kansas City and St. Louis, but honestly I love it here. I think that Little Rock is the perfect size where you meet and make friends quickly but it's not too small where you know everyone. I love that there are cute areas like The Heights, River Market, SoMa and the Argenta area in North Little Rock because it makes going places a lot of fun. We usually just pick one of those neighborhoods first and then from there we pick places to go. And the parks here! Whoa! Kansas City and St. Louis don't have a lot of parks/hiking areas so that is honestly my absolute favorite thing about this place."
Do you feel like Little Rock is a pretty dog-friendly place?
"Yeah, absolutely. Most of the little shops have dog friendly signs and there are a lot of public dog parks. We always call restaurants before we go to see if they have dog-friendly patios, and we haven't run upon many that say no dogs allowed. Little Rock has been such a charming place, and I really can't wait to dive deeper into the culture here over the next three years!"
---
Dog Parks In The Metro
Pet-Friendly Patios
Metro Little Rock locals love their pets and want yours to feel welcome here too. Fido can relax right alongside you at the following establishments: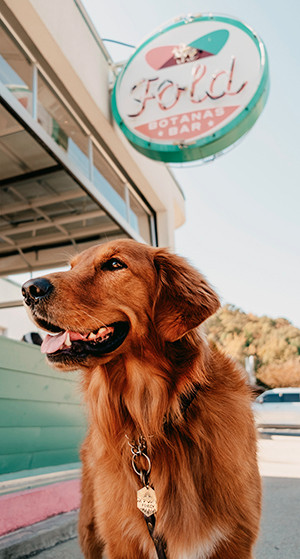 DOWNTOWN
Bark Bar
Bruno's Little Italy
Boulevard Bread Co.
Copper Grill
Community Bakery
Dizzy's Gypsy Bistro
Dugan's Pub
Samantha's Tap Room
The Rail Yard
The Root Cafe

RIVERDALE
Buffalo Grill
Maddie's Place
Red Door
The Faded Rose
The Fold Botanas & Bar

HILLCREST
Leo's Greek Castle
U.S. Pizza Co.

THE HEIGHTS
Boulevard Bread Co.
Café Prego
Cheers in The Heights
Scallions
ZaZa

MIDTOWN
The Purple Cow

WEST LITTLE ROCK / CHENAL VALLEY
Bar Louie
Café Brunelle
The Pantry
Trio's
NORTH LITTLE ROCK / ARGENTA
Cregeen's Irish Pub
Crush Wine Bar
Diamond Bear Taproom & Pub
CONWAY
Almost Famous
Tacos 4 Life
ZaZa
BENTON / BRYANT
U.S. Pizza Co.
Salem Dairy Bar
Fido Knows Best
We asked some metro neighbors for their pet-friendly recommendations, and here's what they told us:
Best Vets:
1. Hillcrest Animal Hospital
2. Pleasant Valley Animal Hospital
3. AllPets Animal Hospital
4. Chenal Valley Animal Hospital
5. Shackleford Road Veterinary Clinic
6. Animal Care Veterinary Center
7. Bellevue Animal Clinic
8. Pinnacle Valley Animal Hospital
9. Saline County Animal Clinic
Best Groomers:
1. Hounds Lounge
2. Chenal Valley Animal Hospital
3. Dat Pooch Mobile Dog Grooming
4. The Dog Porch
5. Hounds' Hideaway
Best Boarding/Doggy Daycare:
1. Hounds Lounge
2. Canine Country Club of Arkansas
3. Wags and Whiskers
4. Chenal Pet Palace
5. The Dog Porch
Best Pet Retailer:
1. Hollywood Feed
2. Doggy Daddy
3. Just Dogs! Gourmet
Best Outdoor Activity with Your Pet (besides dog parks):
1. Hiking
2. Bark Bar
3. Pinnacle Mountain
4. Two Rivers Park
5. Allsopp Park
6. Big Dam Bridge
Best Pet-Friendly Patios:
1. Bark Bar
2. The Rail Yard
3. The Root Cafe
4. U.S. Pizza Co.
5. The Fold: Botanas & Bar
6. Boulevard Bread Co. & Bistro
7. The Pantry
8. Trio's
9. Diamond Bear Taproom & Pub
10. Tacos 4 Life
11. ZaZa
12. Salem Dairy Bar
Best Dog Parks:
1. Burns Park Dog Park
2. City of Benton Dog Park
3. Conway PetSafe Dog Park
4. Sherwood Dog Park
5. Four Paws Park
6. Jacksonville Dog Park at Dupree Park
7. Paws Park at Murray Park
8. Pinnacle Mountain State Park
9. Unleashed at MacArthur Park
---
---
Permalink