Notable Neighbors: Dr. Bart Barlogie of Hillcrest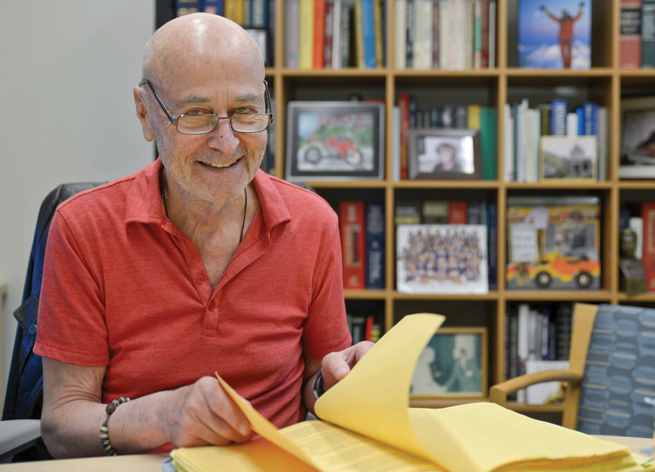 Mauren Kennedy
Dr. Bart Barlogie, M.D., Ph.D
Founder & Director, Myeloma Institute at UAMS
Little Rock | Hillcrest

Germany native Dr. Bart Barlogie moved to the United States in 1974 to work at MD Anderson Hospital in Houston, Texas. During his 15 years there, Bart met his wife and worked his way to the role of Chairman of Hematology. But in 1989, fate – and of course his career – called him to Little Rock to found the country's largest research and care center focusing on multiple myeloma and related disorders—the Myeloma Institute for Research & Therapy at University of Arkansas for Medical Sciences.
Under his leadership, the institute has seen more than 10,000 patients from every state in the United States and more than 50 foreign countries, and has performed more than 9,000 peripheral blood stem cell transplants. It's among the world's best.
Bart and his team of scientists and doctors are working on breakthrough clinical treatments for this bone marrow cancer. In fact, their breakthroughs include being the first center of its kind to use tandem bone marrow/peripheral blood stem cell transplants, the first to perform transplants on an outpatient basis, the first to safely transplant patients age 70 and above, the first to transplant patients with renal disease, and the first to introduce thalidomide as anti-angiogenesis therapy.
Probably the most remarkable accomplishment of the center is this: 57 percent of the center's newly diagnosed patients lived five years or more, compared to that of 34 percent nationally, according to a SEER Program report by the National Cancer Institute.
"Through novel approaches to myeloma treatment, we have quadrupled the average lifespan of patients to more than 10 years," Bart said. "This surpasses what is done at other centers.
Plus, "the compassionate environment provided by UAMS staff and the Little Rock community has been crucial for our patients, most of whom travel to Little Rock from across Arkansas, from all over the U.S. and from more than 50 countries."
So you could say the Little Rock community has a sort of healing power for some of your patients? The Little Rock community has been incredibly supportive – taxi drivers, restaurants, hotels, religious communities – all have embraced our mission and provided encouragement and true friendship. Some of the hotels offer special rates for our patients and provide shuttle services, not just to UAMS but also to malls and restaurants and grocery stores. Some local citizens have opened their doors to patients and have created life-long bonds. Our patients comment about the kind hospitality all the time.
Bart's Favorites
Best place to receive medical care (it's OK if you're biased): UAMS provides the best of academic medicine to Little Rock and the state, with top-notch clinical care, innovative treatments and research, and comprehensive education.
Favorite places to eat: Café Prego; Ciao Baci; Acadia; SO; Copper Grill; The Fold
Favorite local event or activity: I see patients five days a week and have to catch up on weekends with research and administrative duties.
Permalink