Metro Little Rock: An Outdoorsman's Paradise.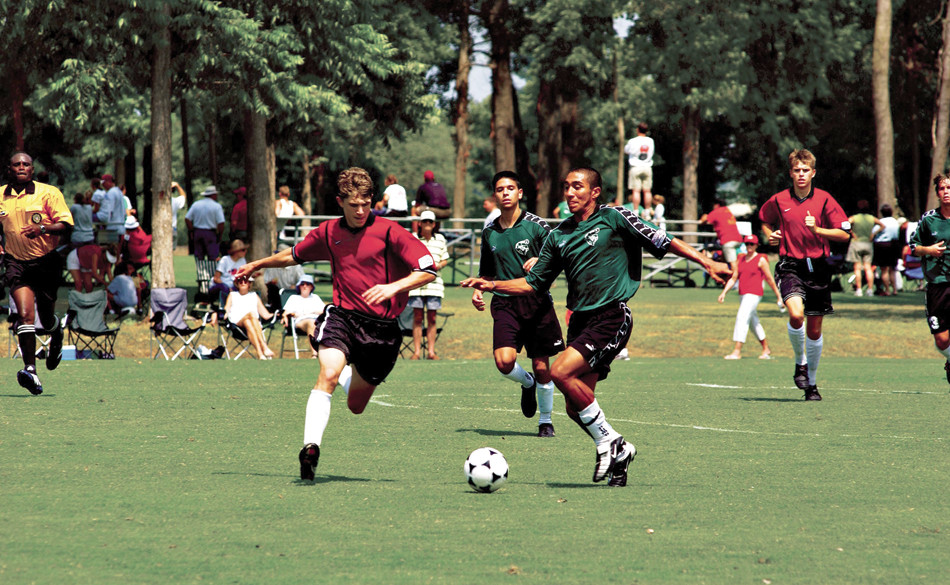 They don't call Arkansas The Natural State for nothing, and Metro Little Rock is right in the mix. Residents enjoy a diverse menu of outdoor offerings ranging from water sports and outdoorsman fun to organized sports, extreme fitness and family leisure at local parks and pools. In the following list, find fantastic options for filling your free time in your new hometown.
CYCLING
Arkansas Cycling & Fitness
ArkansasCycling.com
Download this group's app for all you need to know about Arkansas' trails.

Bike Arkansas
BikeArkansas.com
An easy way to meet new people who share your passion for biking is to find a cycling club in your area. Bike Arkansas' website lists all of Arkansas' bike clubs, race information and a guide to trails that can be found in cities, state parks and national parks throughout the state.

Central Arkansas Recreational Peddlers Club
(501) 920-2159 | CARPClub.com
Looking for something closer to home? Try the Central Arkansas Recreational Peddlers Club, a group of mountain bike enthusiasts who love riding single-track trails out at Camp Robinson in North Little Rock.
GOLFING
(For more information on Metro Little Rock golf courses, check out Arkansas Business' Executive Golfer Guide.)

Burns Park Golf Course
30 Championship Drive, North Little Rock
(501) 758-5800 | NorthLittleRock.travel
One of the best public courses in the state, Burns Park in North Little Rock offers two 18-hole layouts.

The First Tee of Central Arkansas
1 The First Tee Way, Little Rock
(501) 562-4653 | TheFirstTeeLittleRock.org
The First Tee has several amenities for golfers looking to work on their game, including a 3,428-yard nine-hole championship course, a nine-hole par-three course and a 15-acre driving range, putting green and chipping area.
Greens at North Hills
7400 Arkansas Highway 107, Sherwood
(501) 833-3790 | TheGreensAtNorthHills.net
The Greens at North Hills is a re-design by Robert Trent Jones Sr. It was formerly operated as a private facility until 2007 but is now a municipal facility operated by the City of Sherwood. Course amenities include affordable greens fees, a driving range, Bunker's Bar & Grill and the Darter Golf Shop.

Greystone Country Club
57 Greystone Blvd., Cabot
(501) 941-4444 | GolfGreystoneCC.com
This semi-private 18-hole course in Cabot features Bent Grass greens and Zoysia fairways. The par-72, 7,392-yard course is one of the state's top-rated.

Hindman Park Golf Course
60 Brookview Drive, Little Rock
(501) 565-6450 | LittleRock.org/ParksRecreation/GolfCourses
Hindman Park is one of Little Rock's most attractive and challenging courses. The 18-hole, par-72 course boasts a wooded setting with scenic vistas.

Rebsamen Golf Course
3400 Rebsamen Park Road, Little Rock
(501) 666-7965 | LittleRock.org/ParksRecreation/GolfCourses
Rebsamen Golf Course is located along the Arkansas River, adjacent to Murray Park. Rebsamen offers golfers a par-72, 18-hole championship course and a nine-hole executive course.

StoneLinks Golf Course
110 Arkansas Highway 391 N., North Little Rock
(501) 945-0945 | StoneLinks.net
The true links-style course was recently named the fifth best public course in Arkansas. It features wide-open landing areas, pot bunkers and four sets of tees, and is only 15 minutes from downtown Little Rock.
War Memorial Golf Course
5511 W. Markham St., Little Rock
(501) 663-0854 | LittleRock.org/ParksRecreation/GolfCourses
Located in the heart of Little Rock, War Memorial Golf Course features a fast-playing, par-65 18-hole golf course with reconstructed tees and greens.
HUNTING/FISHING
Arkansas Game & Fish Commission
2 Natural Resources Drive, Little Rock
(501) 223-6300 | AGFC.com
Visit Game & Fish's website to explore the wealth of opportunities sportsmen can find in the metro.
KICKBALL
Little Rock Kickball Association
Interstate Park, Little Rock
(501) 563-1244 | LRKickball.com
Serious sounding name – less serious sounding organization. Sure, it's exercise, and somewhat competitive, but fun is first and foremost with this group.
PARKS
Allsopp Park
3700 Cedar Hill Road, Little Rock
(501) 371-4770 | LRPR.org
Allsopp Park features popular biking and hiking trails, and a 7-acre activity area including a ball field, playground, pavilion and tennis courts.

Burns Park
Interstate 40, Exit 150, North Little Rock
(501) 791-8537 | NorthLittleRock.Travel
With 1,600 acres, Burns Park is one of the largest city-owned parks in the country. The park boasts ballparks, hiking trails, a BMX bike track, two disc golf courses, playgrounds, soccer fields, a tennis and racquetball complex, and a golf course.
Henson Park
407 Beverly Ave. N., Sherwood
Just one of 20 city parks in Sherwood, Henson Park is known for its tennis center, scenic natural waterfalls and other recreational amenities.

Julius Breckling Riverfront Park
LaHarpe Blvd. & President Clinton Ave., Little Rock
(501) 371-4470 | LRPR.org
Located downtown off LaHarpe Boulevard, this park features the First Security Amphitheater, the nearby River Market district, the Peabody Playground and the Ozark Pavilion.
Lake Cherrywood Park
300 Summit St., Sherwood
Lake Cherrywood Park is just one of 20 city parks in Sherwood. It boasts a lake stocked by Arkansas Game & Fish, a fishing pier, basketball court, a gazebo, a playground and swing set, and a picnic area with a grill.

MacArthur Park
601 E. Ninth St., Little Rock
(501) 371-4470 | LRPR.org
MacArthur Park is the city's oldest municipal park. Outdoor facilities include brick promenades, a pavilion that is available for rental, a bocce ball court and scenic contemplation gardens.

Maumelle Park
9009 Pinnacle Valley Road, Little Rock
(501) 868-9477
Nature lovers can visit the 2,000-acre site, which offers hiking trails, two of which lead to the peak of Pinnacle Mountain, environment education programs, picnic shelters, a boat ramp and a playground.

Murray Park
Rebsamen Park Road, Little Rock
(501) 371-4770 | LRPR.org
Alongside the Arkansas River, this park has eight busy pavilions, three soccer fields, two playgrounds (one handicapped accessible) and a boat dock. Murray Park is also a popular site for numerous fishing tournaments.

North Shore Riverwalk
Willow St. & Riverfront Dr., North Little Rock
(501) 758-1424 | NorthLittleRock.Travel
On the north side of the Arkansas River, this 3.5-acre park offers picturesque views, lighted walkways and a jogging trail. Families will enjoy the many picnic sites and open play areas.

Pinnacle Mountain State Park
11901 Pinnacle Valley Road, Little Rock
(501) 868-5806 | ArkansasStateParks.com
Hike the park trails for views of the Arkansas River, or stop at the visitor center for interactive displays on Arkansas' natural wonders. The park also has a playground and Kingfisher Trail for those with young children who can't make a steep hike.

War Memorial Park
1 Stadium Drive, Little Rock
(501) 663-6385 | LittleRock.org/ParksRecreation/Parks
War Memorial Park houses War Memorial Stadium and a public golf course, along with a children's fishing pond, bike trails, tennis courts and a swimming pool.
RUNNING
Arkansas Runner
ArkansasRunner.com
Find a local running club through this site; there are groups all across Metro Little Rock – from the Maumelle Running Club to the Cabot Country Cruisers. The latest race news, results and registration information are also available.

Arkansas Ultra Running Association
RunArkansas.com
AURA is an organized group of ultra and trail running enthusiasts who travel throughout the state to participate in ultra marathons.
SOCCER
Arkansas Soccer Club
108 Wellington Colony Court, Little Rock
ArkansasSoccerClub.com
The website includes information about kids' soccer camps and local soccer teams, as well as a helpful field locator.

Arkansas State Soccer Association
1100 E. Kiehl, Suite 3, Sherwood
(501) 833-0550 | ArkansasSoccer.org
This is the ultimate Arkansas soccer resource for both adults and youth. Find information on local events and leagues, programs and state clubs.
TENNIS
Arkansas Tennis Association
2024 Arkansas Valley Dr., #302, Little Rock
(501) 227-7611 | ArkTennis.com
ATA offers junior, adult and league tennis, as well as tournament and competitive play across the state. The central Arkansas community tennis associations are listed online.

Burns Park Tennis Center
4000 Joe Poch Road, North Little Rock
(501) 791-8585 | BurnsParkTennis.com
The pay-as-you-come tennis facility offers lighted, heated and ventilated indoor and outdoor courts. Additionally, there are air-conditioned racquetball and wallyball courts.
Hensen Park Tennis Center
408 N. Beverly Ave., Sherwood
(501) 835-9793 | HensonTennis.com
Four outdoor, hard tennis courts with lighting, pro shop and tennis lessons and programs for singles, teams, juniors, and seniors.

Rebsamen Tennis Center
1501 Leisure Place, Little Rock
(501) 664-0736
RebTennis.com
This facility has 17 lighted, hard-surface courts. Users can rent racquets, balls and a ball machine, and three backboards are available for free use.
VOLLEYBALL
Central Arkansas Volleyball Association
CAVBA.org
The closest thing Little Rock has to a beach – Murray Park along the Arkansas River – fills up on fair-weathered Saturdays around noon with sand volleyball players. They're part of the association, which coordinates indoor and outdoor open play, leagues and tournaments throughout the year.
WATER SPORTS
Arkansas Boathouse Club
North Little Rock Boathouse, North Little Rock
ArkansasBoathouseClub.org
The club is open to all residents who would like to participate in the sport of rowing. The ABC aims to provide safe opportunities for recreational and competitive rowing and to teach and live its ideals of teamwork, physical fitness, river knowledge and sportsmanship. We row on the Arkansas River from the North Little Rock Boathouse and at Lake Maumelle from Jolly Roger's Marina off Highway 10.

Arkansas Canoe Club
P.O. Box 1843, Little Rock
www.ArkansasCanoeClub.com
This club consists of more than 600 members representing seven chapters who get together in and around Arkansas to canoe rivers, streams and lakes. The central Arkansas chapter meets the fourth Tuesday of every month, except December, in Little Rock.

Arkansas River
USACE.Army.mil
Pulaski County's portion of the Arkansas River, managed by the U.S. Army Corps of Engineers, is suitable for a variety of water sports, like fishing, but swimming is dangerous and not allowed.
Grande Maumelle Sailing Club
12000 Maumelle Harbour Road, Roland
www.GMSC.org
GMSC is a nonprofit organized to promote sailboat racing. The program consists of a series of races from May through October for centerboard boats, and from November through April for keelboats. Several special regattas are held throughout the year.

Lake Maumelle
Arkansas.com/Lakes-Rivers/Maumelle
Although this lake serves as the water supply for Little Rock (swimming is not allowed), it's also one of the most popular sailing and fishing sites in the area.
Rockwater Marina
1600 Rockwater Blvd., North Little Rock
(501) 347-8275| RockWaterMarina.com
Rockwater Marina, located on the Arkansas River, offers 136 boat slips just minutes from downtown attractions and dining. Amenities include, pump-out system, fueling station, ship store, large patio area, and concierge services.
SPORTS TEAMS
Arkansas Travelers
400 W. Broadway, North Little Rock
(501) 664-3015 | Travs.com
The Arkansas Travelers are the Double-A affiliate of the Seattle Mariners. The team plays at Dickey-Stephens Park, which can hold up to 7,000 people and features wide concourses, a large concessions menu, and a great view of Little Rock's downtown skyline.

University of Arkansas at Little Rock Trojans
2801 S. University Ave., Little Rock
(501) 565-8257 / UALRTrojans.com
Catch an exciting basketball game inside the state-of-the-art 5,600-seat Jack Stephens Center, home to the UALR Trojan's men's and women's basketball teams (NCAA Division I).

University of Arkansas Razorbacks
War Memorial Stadium, Little Rock
(800) 982-4647 | ArkansasRazorbacks.com
The NCAA Division I University of Arkansas Razorbacks call War Memorial Stadium their second home for two games each year. Fans make the most of the high-energy atmosphere at War Memorial with plenty of tailgate parties and barbecues before the games.
Permalink