Metro Little Rock's Cultural Scene Has National Appeal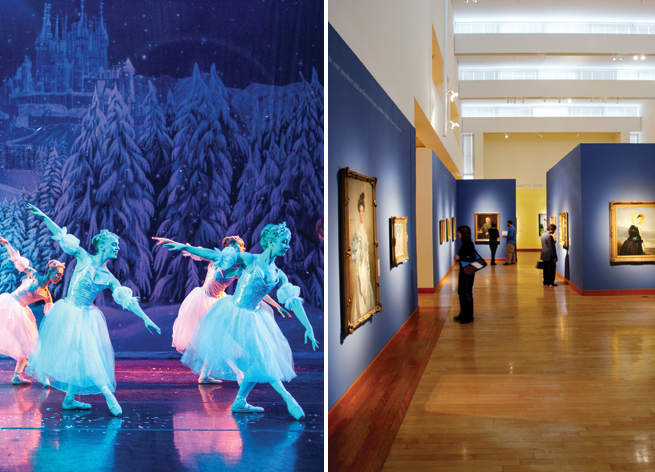 Ballet Arkansas by David Knight
Metro Little Rock boasts vibrant arts venues. From Conway's Shakespeare Theater to Little Rock's Clinton Presidential Library, the arts offerings are as diverse as they are bountiful. Save this list of cultural to-dos for after your move—you'll want to experience them all.
Museums

Arkansas Arts Center
501 E. Ninth St., Little Rock
(501) 372-4000
Featuring works by van Gogh and Picasso, the AAC is internationally known for its extensive and renowned collection of works on paper, putting the center on par with major museums in larger cities. Its Children's Theatre is dedicated to producing classic and contemporary stories for families.
Arkansas Inland Maritime Museum
120 Riverfront Park Drive, North Little Rock
(501) 371-8320
Its most notable feature is the USS Razorback submarine, but the museum also houses a theater, exhibits and programs relaying the impact of maritime trade, the inland waterways system, and the Arkansas River and its aquaculture.

Arkansas National Guard Museum
Sixth & Missouri, Camp Robinson, North Little Rock
(501) 212-5215
Displays include large scale models of the post in the WWI and WWII eras, weapons, vehicles, airplane models, uniforms and photographs.

Arkansas Sports Hall of Fame
3 Verizon Arena Way, North Little Rock
(501) 663-4328

Peruse championship trophies, autographed game balls and torn, frayed uniforms lining the displays and exhibits; yet what shines through are the inspirational stories behind each of these Arkansan's achievements, whether it's at the college, professional or Olympic level.

Butler Center for Arkansas Studies
401 President Clinton Ave., Little Rock
(501) 320-5700
The institute houses former governors administrative papers, editorial cartoons, photographs, paintings by natives, early maps and one of the best Civil War collections in the state.

EMOBA-The Museum of Black Arkansans & Performing Arts Center
1208 S. Louisiana St., Little Rock
(501) 372-6093

EMOBA, the first incorporated Black History Museum & Performing Arts Center in the state, is dedicated to preserving the heritage and culture of black Arkansans. The musuem hosts changing exhibits exploring the African-American experience in Arkansas.
ESSE Purse Museum
1510 South Main St., Little Rock
(501) 916-9022

More than just fashion history, ESSE shows the evolution of the 20th-century American woman—decade by decade—not only through the bags she carried but through their contents.

Heifer Village
1 World Ave., Little Rock
(501) 907-2697

More than 80 inspiring interactive exhibits explore the solutions to some of the world's most pressing problems; guests can tour Heifer's green headquarters and restored wetlands. Visit the website to see all current activities, fees and hours.

Historic Arkansas Museum
200 E. Third St., Little Rock
(501) 324-9351

The Historic Arkansas Museum has five galleries of Arkansas-made art and artifacts, five pre-Civil War buildings for touring and an interactive Children's Gallery.

Jacksonville Museum of Military History
100 Veteran's Circle, Jacksonville
(501) 241-1943

The museum, located on the site of the administration building of the Jacksonville Ordnance Plant during World War II, includes many special exhibits and a media presentation and research room.

Little Rock Central High School National Historic Site
2120 W. Daisy L. Gatson Bates Drive, Little Rock
(501) 374-1957

Interactive exhibits discuss the struggle for civil rights at a visitor center adjacent to the school, which became a battleground in the desegregation crisis of 1957.

MacArthur Museum of Arkansas Military History
503 E. Ninth St., Little Rock
(501) 376-4602

Housed in the historic Tower Building of the Little Rock Arsenal, this museum commemorates the state's military history from the territorial period to the present. Permanent exhibits depict the Jeep's impact on WWII and the Little Rock Arsenal's role during the Civil War.

Mosaic Templars Cultural Center
501 W. Ninth St., Little Rock
(501) 683-3593

An interpreter of Arkansas' African-American community and history since 1870, the center's location was once the headquarters of a fraternal organization established to provide services to blacks during segregation

Museum of Discovery –Donald W. Reynolds Science Center
500 President Clinton Ave., Little Rock
(501) 537-3055

The family museum boasts hands-on exhibits exploring the wonders of nature, science, technology and history in an interactive, educational environment.

Old State House Museum
300 W. Markham St., Little Rock
(501) 324-9685

Built in 1836, the Old State House served as the Arkansas Capitol until 1911 and is a National Historic Landmark. The museum has six period rooms, exhibits highlighting Arkansas' first families and the building's architecture and two legislative chambers.

Plantation Agriculture Museum
4815 Arkansas Highway 161, Scott
(501) 961-1409

About 30 minutes from Little Rock, the museum interprets the history of cotton agriculture from 1836 to WWII. See early cultivation tools, the blacksmith shop and rare cotton gins.

William J. Clinton Presidential Library & Museum
1200 President Clinton Ave., Little Rock
(501) 374-4242

The center houses presidential archives, educational and research facilities, as well as a museum that boasts exact replicas of the Oval Office and Cabinet Room, complete with computer stations to create an interactive experience.

Witt Stephens Jr. Central Arkansas Nature Center
602 President Clinton Ave., Little Rock
(501) 907-0636

Introduce yourself and the kids to Arkansas wildlife and nature preservation with 16,232 square feet of interactive exhibit space and an impressive aquarium.

Performing Arts/Theater

Arkansas Arts Center Children's Theatre
501 E. Ninth St., Little Rock
(501) 372-4000
Recognized as one of the best regional theatre companies in America by The Drama League, this Children's Theatre is the only professional company in the state that produces children's literary works on stage. It's wildly popular with Metro Little Rock families.
Arkansas Repertory Theatre
601 Main St., Little Rock
(501) 378-0405

This 350-seat theater has produced more than 280 productions made specifically for its stage, including 40 world premieres. In fact, some its original productions are later performed at regional theaters across the country.

Arkansas Shakespeare Theatre
201 Donaghey Ave., Conway
(501) 428-4165
Every summer, the Arkansas Shakespeare Theatre produces a repertory of family-friendly professional productions at Reynolds Performance Hall on the University of Central Arkansas campus.

Arkansas Symphony Orchestra
2417 N. Tyler St., Little Rock
(501) 666-1761

Arkansas Symphony Ensemble provides a string quartet, brass quintet, jazz trio, pianist, harpist, bagpipes, solo trumpet, woodwind trio, string duo, voice and more.
Ballet Arkansas
(501) 223-5150

Ballet Arkansas is committed to enriching the community through development of its young performers and providing high caliber performances.

Celebrity Attractions
300 S. Spring St., Suite 100, Little Rock
(501) 244-8800
This producer of nationally touring Broadway seasons brings such famed shows as "Wicked," "STOMP," and "Mamma Mia!" to Little Rock.
Donald W. Reynolds Performance Hall, UCA
201 Donaghey Ave., Conway
(501) 450-3265

Since opening in 2000 with a sold-out concert by the late Ray Charles, this 1,200-seat performance hall has hosted numerous celebrities, including the Temptations and Gladys Knight, and many national and international touring companies.

Ron Robinson Theater
100 Market Ave., Little Rock
(501) 320-5715
The CALS Ron Robinson Theater, the newest performance space in the River Market district, is a 315-seat multipurpose event venue. The theater is designed for films—which is why it's home to the Little Rock Film Festival—concerts, plays, readings and lectures, children's events and more.

Wildwood Park for the Performing Arts
20919 Denny Road, Little Rock
(501) 821-7275

Situated on a 105-acre woodland garden, Wildwood is the largest park dedicated to performing arts in the South.
TAKE A PEEK
Preview some of the happenings at a few of the arts venues around town on Instagram.
Permalink